Tamaricciu is a charming little room (13 m2) on the 1st floor. It has a double bed, air-conditioning, fridge bar, TV, WI-FI, safe and hairdryer, as well as a place to prepare tea and coffee at your convenience.its bathroom has a shower and toilet.
Its private 8 m² terrace offers stunning sea views.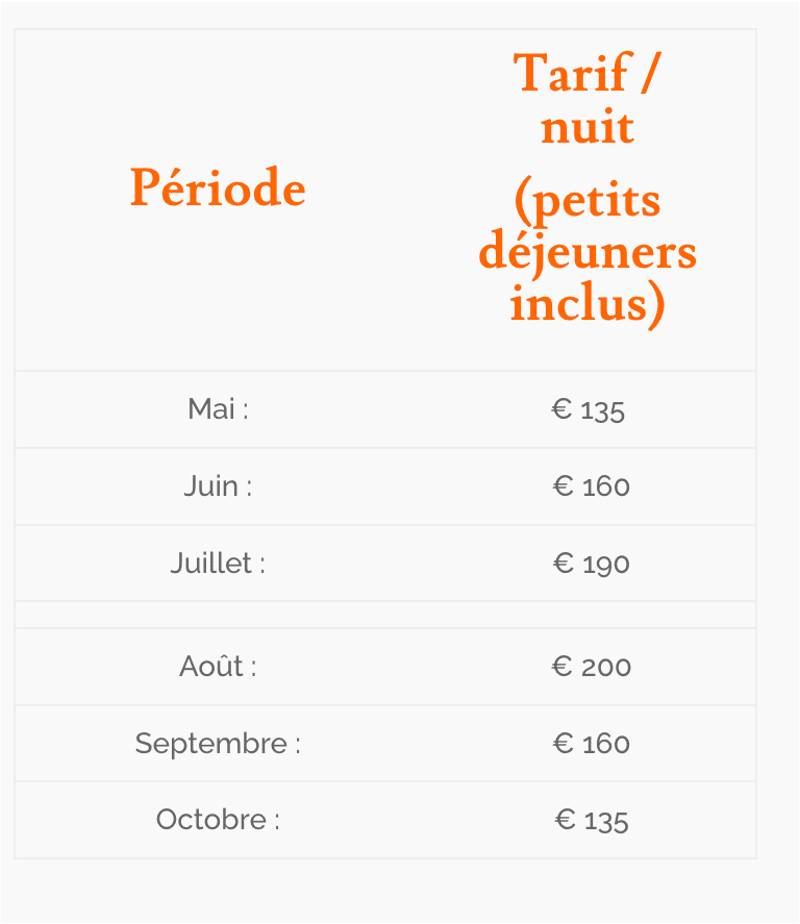 Breakfast is included in the price.
3 nights minimum.
SERVICES
The little things that make all the difference
A haven of peace!
I've come back for the second time... All the previous reviews are concordant and enthusiastic and it's not by chance: it's totally justified! The guest house totally corresponds to the description and the photos... only better because it's animated by a very warm, attentive but discreet welcome. The rooms are all superb, the bedding is perfect and the breakfast delicious. A real source of rest!
Timetable
Arrival: between 3pm and 7pm
Departure: rooms must be vacated by 11 a.m. at the latest.
Breakfast: between 8 and 10 a.m.
Reservation
 

The reservation becomes effective once the customer has sent a deposit of 30 % of the total price of the stay and a signed copy of the regulations within a maximum of 5 days. Our prices include breakfast, tourist tax, linen and parking. The balance must be paid on the day of arrival.
Good to know
3 nights minimum and confirmation of reservation 30% by bank transfer
Credit cards are not accepted: payment by bank transfer, French cheque or cash.
Access to Casa Marta is not recommended for people with reduced mobility or young children.
Casa Marta is not recommended for people without a car.
In the event of cancellation
Before the start of the stay: the deposit paid remains unclaimed.
If there is no news before 7 p.m. on the agreed date, we reserve the right to make use of the rooms. The deposit paid will be retained.
In the event of a shortened stay, the price corresponding to the total cost of the accommodation initially booked will be retained in full.
Do you have a question?
We'll get back to you as soon as possible!
Domaine U Scaleggiu Route de Porra 20137 Porto-Vecchio
contact.casamarta@gmail.com